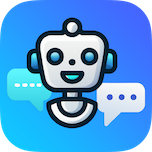 RoboGuru
by Cromulent Labs
Powered by ChatGPT and DALL-E
RoboGuru provides the best native ChatGPT interface on all of your Apple devices.
Why choose RoboGuru? We offer unique features not found in other AI assistants:
Privacy and Convenience: All of your conversations are privately synced across your iPhone, iPad, Apple Watch, and Mac through iCloud. Your conversation history remains exclusive to you.
Search Conversation History: Search all of your past conversations to find the answers you are looking for.
Innovative Image Generation: Want an image that only exists in your imagination? Just ask! RoboGuru can generate unique images using DALL-E.
Intelligent Summaries: Need to understand a PDF, screenshot, or URL in a nutshell? RoboGuru has you covered.
Custom Playlists: Ask for playlists tailored to your liking, and tap a button to add to Apple Music or Spotify.
Calendar Integration: Stay on top of your schedule! Ask RoboGuru about your upcoming schedule or intelligently create new events.
Siri and Shortcuts Support: Access RoboGuru from anywhere on your device.
Voice Mode: Dictate your queries and receive spoken responses with our optional voice mode.
Pay-as-You-Go Model: No subscriptions! You have the option to pay as you go or use your own API key/lifetime unlock.